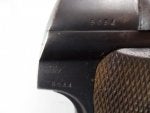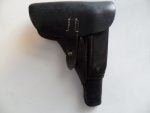 Hello, here is another for your survey. Interesting that is so close to Henri's who posted on 5/4/2010. It goes to show consistency for rogs and the pistols at the time. anyway here are your answers.
1. S/N 5054
2. waffenamt WaAD20 yes
3. No. to grip markings
4. Yes, to Astra U/C logo along with 2 line company name on upper rear of slide
5. other markings;
full serial number under the grip on frame along with Unceta Y Compnia.
full serial number under slide
last two digits of serial on barrel underside along with PIST PATR 08.
6. 2 mags. no serial numbers
7. DKK 44 holster, lightly marked
photos attached.