Discussion Starter
·
#1
·
Hello all. I recently made an ill-advised trip to a gun show and came home with less money, but more Bergmann. Here's #15600.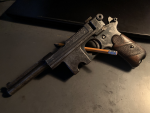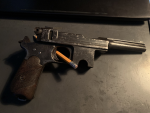 This is the only Bergmann I've ever seen in person, but from googling around it might be the roughest example on the planet! Regardless, I'm happy to have it, especially considering I paid very little for it.
Jan C. Still's book notes that guns in the 15000 to 16000 serial range were produced under German occupation and lack the usual proof markings, instead featuring a diamond with an apple in the center...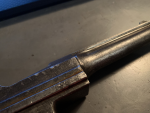 ... which makes this pistol one of those 1000ish guns.
Unfortunately I do not actually
own
the book, which means my sole information source is Ian McCollum's (excellent) coverage on ForgottenWeapons, so I'm hungry for any more information I can find.
I did not get a magazine or any accessories with the pistol, so I'm on the hunt. If anyone has a magazine they'd be willing to part with, please let me know. I understand magazines can be reproduced using Sig submachine gun magazine bodies but I'm loathe to cut up an antique if I don't have to.
What else is there to know? This pistol is mechanically complete, aside from the magazine, and is functional. If I choose to shoot it, is there anything I need to keep an eye on (ie the C96's bolt stop)?