Discussion Starter
·
#1
·
FN 1910 – DUTCH "D.v.F." CONTRACT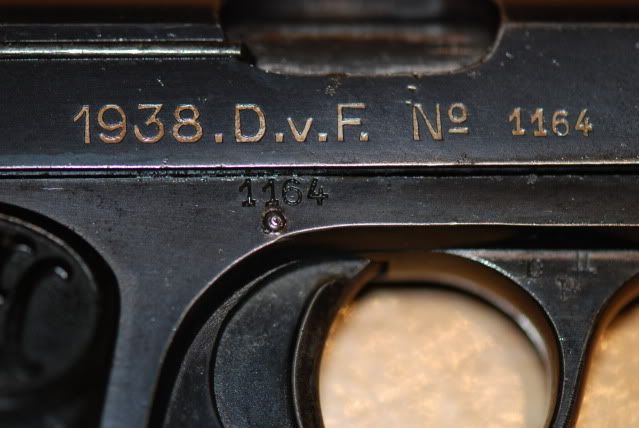 FN 1910 – DUTCH "D.v.F." CONTRACT
Credit must be given to Anthony Vanderlinden. The info provided here is captured from his most interesting book, "FN Browning Pistols" (2009), page 206.
The SN "1164" pistol depicted here is 1 of (only) 400 FN 1910 pistols ordered by the Dutch Ministry of Finances (Departement van Financien : "D.v.F.") in November 1937. They were numbered from 1101 to 1500, and marked "1938" for their delivery date. The elimination of the current FN production serial number had been requested by the client. This 1938 series consisted of a 2nd D.v.F. contract with Browning.
Vanderlinden reports only one other 1938 specimen, which is "1368". This "1164" item would therefore be the second specimen to be reported. Hopefully, the author will be made aware of the input for his database (?)
The first D.v.F. contract in 1936 was for 600 7.65 FN pistols, numbered from 501 to 1100. At that time, pistols retained their current Belgian SN. According to Vanderlinden, only five (5) have been reported or observed: 635, 712, 860, 1009 and 1052. After the war, instead of 1910s, FN 1922s were ordered, of which seven (7) have been tabulated.
Unlike standard production, Dutch contract FN pistols were built with a lanyard ring and raised sights. Subject pistols have been used by plain-clothes duty inspectors as well as Dutch customs.
I have acquired this pistol in Dec 09, as a legacy from a gunsmith who lived and died in New Brunswick, Canada. The pistol included two magazines and was delivered to me in an old Browning cardboard red box designed to hold it tight.
That's it for now. Any other info is most welcome, as sharing with collectors is always a pleasure.