Discussion Starter
·
#1
·
Hello,
In short, I recently acquired two service guns that belonged to a policeman (Gendarmerie). I was interested by one, a good 9mm, but the deal was to buy both. The other one was an old FN 1910 .32 ACP ...
I started to read a lot on its history (looking forward the next Mr Vanderlinden's book!), and I tried it one time at 25 meters (and I liked!).
I wanted to discover more, put an age on it, find more information on when they were ordered by the Switzerland and so on, but didn't find much about it (on wikipedia you can see a FN 1910 of the Gendarmerie of Vaud, with a serial number 5xx xxx).
Mine has a serial number 128 xxx. After what I've read here, it was probably made between 1920 and 1925 (1922-1923?).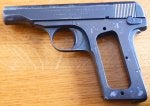 The writings on the barrel are pretty unusual ; no caliber indication:
Some writings inside the horn grips (does "23" mean year 1923 ?)
And now I have some hesitations to use it again, especially since the grips starts to crack, and because it could be a piece of history.
Maybe I could buy some new grips and store carefully the old ones if I want to continue to use this gun.
But I'd like some of your informed opinions, and if someone has some documentation about the history between the FN 1910 and the Switzerland I would be grateful.
Regards,
Nico.