Discussion Starter
·
#1
·
Given my Polish heritage, I am unfortunately drawn to the desire to collect Polish firearms, particularly those of the Polish 2nd Republic, which is by no means an easy to find nor inexpensive area of milsurp collecting. While I do have a number of Polish crested Mausers in my collection, I cannot justify the asking price of a gorgeous Polish crested VIS 35, so I am content with picking up German Occupation models.
My first acquisition back in 2016 was a 1st letter block (T-Block) mid-war variant (Type II). This one still retains the takedown lever, but obviously omits the shoulder stock cutout. As you can tell, the finish on these mid-war pistols is starting to suffer, as the bluing isn't too great, machining marks are still present, and some of the nicer/finer trim cuts have been omitted to simplify production.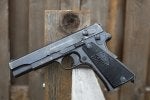 This one came with two magazines (one with a waffenamt, and one without) and a black German holster (I can see the faint P35(p) stamp with what I think is a BNZ stamp as well). It has some USGI capture modifications to it, as it has a non-original rivet and it looks like some additional holes for mounting to a GI belt. It is marked "Bernal S Bender" with a serial number. I was able to look up the soldiers information and obituary, which was an interesting research opportunity.
My second acquisition was a bit of a gamble. I took a chance on an auction for a poorly photographed and not very well described late war FB Radom VIS (2nd Letter F-Block, Type III). This particular one came with the original gun shop showroom floor sticker price of $1,499.99! No wonder no one was biting on it when it was on display, so the seller decided to take it to auction.
It looked a LOT better in person and in the daylight, is fully functional, and is all matching. It came with a rather beat up holster.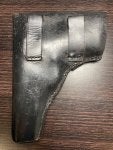 Upon a closer inspection, I did see that the magazine is electropencilled to match the serial number of the frame and slide, and the barrel (which is matching) has a different number code electropencilled near the muzzle.
I took a look through York's book and didn't see any examples of this specific electropencilling. The book has some "Russian Capture" examples, but they are marked/stamped in a different fashion. On another forum, someone suggested that this may have been serialized by the police in an evidence locker, but nothing certain. Maybe the fine folks here may know?
My last acquisition was another Type II mid-war variant (P-letter block). Again this one was a bit rough around the edges with worn finish (and a somewhat loose/floppy takedown lever), but I couldn't complain about the price. It came with a spare magazine and a neat custom made holster.
Now a question that I have for the Radom VIS experts here that I haven't found in any literature (and nothing concrete on other milsurp forums):
All of the 3 Radom VIS35's I have exhibit a somewhat "ragged" looking V-notch relief cut in the slide around where the recoil spring is housed. I am wondering if this cut is more "neatly" machined in earlier examples, like the no letter prefix VIS35's (Polish and early German occupation production). I am wondering if someone would be able to provide examples/photos.