Discussion Starter
•
#1
•
Beautiful Swiss produced Luger # 27005 from late '27. The front sight blade is irregular but I've seen similar on other Swiss Lugers.
The serial numbers or abbreviations are marked in more areas than I suspected. Besides the normal full #'s on the barrel and lower receiver I found: 005 on the breach block/ grip safety (under grip)/recoil lug on the upper receiver/ and 05 on....back toggle and both wood grips. The clip/mag is the proper one pin wooden base.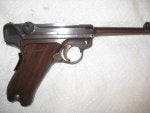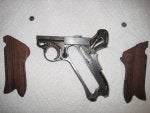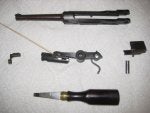 There are numerous very small Swiss Crosses stamped about and the inspector was M. The bore is excellent and the action very tight....couldn't be more pleased. I have a later 06/29 ('38) arriving shortly.
I am new to this hobby and if you have any info on the irregular front sight I'd be very interested. I'll post holster pics later...