Discussion Starter
·
#1
·
Hello Forum,
This is a tale of two actual guns that I call the "original gun" and the "present gun." Both versions have been extensively reworked and are unrecognizable one from the other; they are that different. A phantom "third gun" can also be mooted as the Weimar intercessor between the two evidentiary extremes. The evidence I provide below will substantiate these claims. Please see for context, Forum links, and foundational images my earlier post,
http://luger.gunboards.com/showthread.php?104857-Sleuthing-a-Suhl-Area-Rework
The original Gun
The present gun
was originally manufactured in 1917 and there we encounter it's first and most vexing anomaly, its serial number, 1682
i
. In the attached image, it's applied under the blue and the "-
i
" is not cursive, as seen on several examples of "-
i
" suffixes in Gortz & Sturgess (G&S, p. 610), but is shaped like a slash or exclamation point, right-leaning like an italic and there may be a period after it or that might just be a small pit or dent.
The gun at that time (the original gun) was assembled for military acceptance and received its
military serial number
of 1682
i
. It may have remained at DWM until the armistice, and in any case was subsequently sold commercially after extensive rework, probably by about 1920 before the "Disarming of the People Law" (G&S, pp. 851-52), and most likely as a 7.65mm.
But, Gortz & Sturgess assert on p.609: "It is apparent. . .that the -
i
suffix block was reserved for commercial pistols; no militarily or police marked guns are found in this block. . ." and on p.629 they again state that the -
i
suffix was "used only for commercial and contract production". Other references to that effect abound in G&S, so this gun is a data point supporting the alternative hypothesis that "true" so-called "alphabet commercials" did in fact begin with serial number 2001
i
in 1921.
Inside marks on frame, receiver, and the narrow-chamfer front toggle (G&S, pp.530-31) indicate 1917 DWM manufacture. The circle-N mark is present (DWM frames from 1917) on the receiver lug and is also variously located, "N" is also found alone ("N"was the principal DWM internal inspection mark briefly in 1911, and was revived in 1914 and appeared until mid-1917 (G&S, p.572, and p.574); and both are found together variously inside the frame and receiver).
Together these characteristics date the manufacture of the frame and receiver, and toggle-train (possibly minus the present rear toggle, which is unnumbered) to probably 1917. I see no "A" marking, "RC" marking, or other symbolic evidence of rejected parts in the markings.
Frame length measures 129.5mm, longer than the average for WWI P-08's of 129.3mm, and the specification drawings that show 129.0mm (+0.2mm) (G&S, p.536, pp.1097-98, and pp.1802-04). That means the serial number is original, not having been shaved and replaced post-WWI.
The chamber is unmarked and undated and its exterior measures 21.98mm vertically and 23.80mm horizontally, which means an existing date stamp was certainly shaved off (G&S, p.1797: Specification drawings for P-08 show cannon height of 22.3mm (-0.2mm) and width of 24.0mm (-0.1mm) and provide no minus tolerances beyond those limits).
These parts were forged and machined to spec by a competent manufacturer and show no rejection marks (and DWM was under contractual obligation to provide the army with
flawless
parts; G&S, pp.443-45). They were therefore
altered after manufacture
and the only alteration possible would be to remove existing dates and other stamps.
The receiver was serial numbered on the left front in the military fashion (and all other external part-numbers conform to the serial number and are plainly visible, not hidden). The left front toggle-link to the breechblock bears a faint Imperial heraldic eagle army proof mark.
The weight of evidence favors the interpretation that this was a military weapon (at one time bearing all military inspection and acceptance stamps, dates, and proofs, and actually its participation in the last year or months of WWI can't strictly be ruled out).
The width of the receiver at 23.80mm is now thinner than the average width of WWI P-08's of 23.9mm, so it had some or all existing inspection/acceptance marks and proof marks shaved or buffed away.
G&S (pp.447-53) show WWI military marking to have been applied to the left breech block in stage/location "26b", and to the right side of the receiver, which on the present gun is smooth and blank, except for a Luftwaffe final acceptance mark later applied at the Suhl rework (discussed below).
My conclusion from this evidence is that the
original
gun was never an "alphabet commercial", but was reworked into a commercial pattern and remains an anomaly in that latter current category as it is presently defined by collectors.
The Present Gun
The second of the vexing and confusing characteristics of the present gun is that it has
four
commercial lazy c/n proof marks. To best conform to Gortz & Sturgess'empirical analysis (pp. 536-7), four of the four lazy c/n proofs (one on the left receiver -observed to be stamped under the blue, one on the left frame -stamped through the blue, and one on the upper-left breechblock -stamped under the blue and apparently buffed, and finally one on the bottom of the barrel -stamped through the blue) would all have been applied at once in
Suhl
to an existing gun provided for proofing by a local assembler/reworker sometime in 1935 (my date estimate).
The present gun's sideplate (see the Sticky "Sideplate Study" in the "New Collector's Board" section) is probably original and by its shape and by the numbers is a DWM Military sideplate, stamped "82" on the outside lower center right, and "16"on the inner bottom edge, with an inscribed lazy "3"(possibly an upper-case "E") nose-down inside middle left.
The present barrel also appears to be an early Mauser barrel from about 1935 or early '36, based on its fully-serrated sight, the muzzle ring length (14.8mm) and minimal sight setback from muzzle, the slight step at the sight pedestal accommodating the more squared-off muzzle ring, and the 5mm filet radius at the receiver (G&S, p.612). But Joop van der Kant states in the sticky:
Forum COMMERCIAL - FOREIGN CONTRACT LUGERS - ACCESSORIES 1930-1942 Mauser Basic Properties of Lugers in Mauser 'V' Series
"Many barrels with a sharp barrel band came as readied parts from DWM to Mauser. It is not known if Mauser produced any barrels with a sharp barrel band in Oberndorf.
The barrels that unmistakenly are produced by Mauser, have a dull barrel band. These appear on Banners as from 1936.
GraphicBarrelBands.jpg
Time table for the use of sharp / dull barrel bands, and the C/N versus Cc/U proof stamps. "
The above attachment's c/n barrel proof marks from DWM are dated from 1928 and would be oriented vertically. It's also true that after 1936 Mauser barrels converged more closely on the shape of late DWM barrels (G&S, p.612). The present gun's barrel also appears to have a blacker-hued (but not deeper) blue to my eye.
This introduces the third vexing characteristic; the present gun's barrel my be a rebarrel from the Suhl rework, or it may be a third barrel probably added by a civilian gunsmith post-WWII.
The chamber contains no offset obturation step, which may date it to post-late-1941 Mauser new manufacture. That would make the present barrel a second(?) rebarrel. But the gun is absent any Nazi inspection marks from a regional headquarters-level armory (a "Heeres-Zeugamter, or H.Za."or Luftwaffe "L.Za.",
G&S, p. 473, and pp.501-03, assert that Luftwaffe maintenance practice probably generally followed army practice, but could differ in detail, and in the army a rebarrel would take place only at an H.Za.). Therefore, a third rebarrel would probably have to have been applied by a civilian gunsmith sometime post-WWII.
Or, the obturation step on the Suhl rebarrel's chamber may simply have been finish-reamed away at some time after 1938-39 when steel-cased ammunition became common, to enable reliable use of steel-cased ammunition (G&S, p.1087). Again, no Nazi inspection or acceptance markings record that event. The chamber reaming would certainly have taken place at an arsenal-level armory (G&S, p.433) and armorers were provided with chamber reamers for that specific purpose during WWII, but nothing is known of Luftwaffe unit-level practices in this regard.
A close examination of the chamber yields little hint as to which condition is more likely; new chamber or reamed. There is a band of discoloration extending back from the leade about ¼" but it is smooth-sided like the rest of the chamber and bears no reaming scars such as those shown in G&S on p.1087. Revolver cylinders also bear permanent staining from cylinder-gap gas leakage and this discoloration may be similar.
However, supporting the chamber-reaming interpretation, the barrel appears to be proofed using a Suhl-style lazy c/n applied through the blue (so this barrel was proofed upon or before open rearmament in 1935-36, or if replaced post-war this is a Suhl commercially-proofed barrel). The barrel bears no other marks except the gage, also applied after blueing (as interpreted from the halos), and bears no fiduciary mark to match the frame.
Apart from the Suhl proofing pattern, the unnumbered rear toggle and unnumbered barrel are both consistent with the well-known retailer Franken & Lunenschloss' standard practice in assembling/reworking guns for commercial sales within Germany.
But the gun bears no trade mark identifying it with that Suhl firm, so it may simply have been sometime normal practice by other small firms and gunsmiths (G&S, p.543) doing assembly and reworks in and around Suhl and using the proof house there.
Suhl proof house would typically have applied all four proof marks (G&S, pp. 535-6), and possibly the LWaA9 acceptance mark as well at that time. The lazy c/n proofs are Suhl commercial proofs, and no other marks, such as Weimar eagles, or any army inspections appear anywhere else (the right receiver is smooth as a slate chalkboard and empty except for the 2.2mm LWaA9, which Gortz & Sturgess assert was used in this context in Suhl as a final acceptance mark by the Luftwaffe, found in location "26c"p.447).
I could be mistaken in one or more of my proof assignments, such as the barrel, which in my previous post I stated I thought was proofed DWM-style (unnumbered, but blued, proofed, and gaged; see above remarks on barrel). But, if it was supplied by Mauser it would typically have been in the white, unnumbered, ungaged, and unproofed, and would have been blued, then gaged and proofed through the blue in Suhl.
Also, an existing DWM lazy c/n on the left receiver (as I suspected in my previous post) would only be period-correct for 1917 (and counterfactual for a military gun; if applied later to a commercial rework, one would also have to believe that the obsolescent lazy c/n was revived and used as the proof by DWM in 1919-20). Either or both of these possible "DWM-inclusions" would not contradict the interpretation of Suhl proofs in the remaining locations for 1935.
I did note in my previous post that the present gun's blue seemed to be original, varying somewhat in the sideplate, which alone also bears freckling, and the Mauser or DWM/Mauser 9mm barrel. I can see crisp machining marks in the frame ears' sections (see images below), and apparently-crisp edges and corners that support this interpretation, and the inner frame and upper magazine well also remain in the white. There are some numbers that are faint and might have been buffed, or are light strikes.
I now believe the toggle-train, which on close examination shows minor pitting under the blue on the front toggle, or at least the breechblock part of it, was reblued. The reblue would have to occur after the Suhl proof mark was applied to the upper-left side of the breechblock, which appears to have been buffed before the blueing occurred.
Now the final vexing and confusing characteristic emerges; I forgot to mention in my last post that when I first removed the grips there was some pitting, resembling casting rash on the front frame posts (grip straps) under the grips.
The pitting appears to be blued consistent with the original strap blue. The straps' finish is very thin and worn through in some places. They continue to project a mottled-blue, where not completely worn, but that disappears in favor of patina in bright direct light (see accompanying images).
The straps'regions of remaining blue and further blueing wear appear to extend in some instances to the areas of pitting under the grips. If this correlated variation is true and not an optical illusion, that would be quite significant; because it would imply one reblue over some pitting, and then subsequent pitting/strap blue damage.
The grips have no numbers or marks of any kind, nor staining associated with the pitting, and are probably replacements. Images of the front strap patina and the pitting are attached.
So the present gun was reworked; rebarreled, possibly repaired (it has a Mauser fluted firing pin numbered "42", a replacement extractor numbered "50", and a Mauser strawed recoil spring with 22 coils of 1.4mm wire from 1934; see G&S, p.1061) and possibly selectively rust-reblued in Suhl, and was also reproofed there. There are
no
Nazi markings anywhere to suggest that a reblue or other repairs took place any later, or during the war, such as at an L.Za.-level repair depot.
We still don't know how the present gun came to the Suhl rework. Occam's razor compels us to revive the simplest possible explanation. By its date of manufacture and the morphology of its part numbers it was configured for military service. We know it was reworked for commercial sale, but nothing about it indicates its circumstances during the 14-year Weimar Republic, except, possibly, the first(?) episode of under-grip pitting and under-the-blue toggle pitting, but that association is purely speculative. It would then, in the late Weimar/early Nazi -era, have to have been acquired by a Suhl area gunsmith or small machine shop and reworked as close to as-new condition as possible.
The convergence of dates of the present gun's barrel (chamber aside), whether a Mauser part from 1935 or DWM/Mauser-inventory dating from 1930 forward, and the LWaA9 acceptance mark dating from 1935 (G&S, p.501), plus the Suhl commercial proof marks made necessary prior to openly-declared rearmament in 1936, therefore make
the present gun
a Suhl area early Nazi rework, estimated at about 1935. It could, seemingly, also bear evidence of some kind of post-WWII tinkering associated with the unstepped chamber.
Was there ever such a thing as an "early Nazi rearmament cottage industry"? Gortz and Sturgess give a hint on p.543 about the situation around Suhl. We all know this level of work (fitting and matching; no heat treating, but possibly strawing) could easily have been done in any Suhl garage or basement shop, or even on a kitchen table/kitchen stove for strawing, by a careful worker with only a vise, a few files and some stones, a hammer and pin punch, the takedown tool, a wire brush, and a pot to hold the blueing mixture. Some gauges or drawings would have been helpful, but not necessary. G&S provide period blueing procedures and strawing instructions that are considered universal and are still in use today (pp.1080-85).
After its rework and subsequent acceptance by the Luftwaffe inspector, I believe my gun would logically have been issued to Luftwaffe personnel; and it's reasonable to assume it saw a lot of use in the succeeding ten years by it's blue-wear pattern. Whether it saw combat with the Luftwaffe (with battle-damage being consistent with the
supposed
after-rework pitting and further damage to the straps' finish) or was merely the rank-totem of a plump administrator (who also might have dropped it in the mud!) who can say?
And it bears repeating that the postwar conditions of use and storage over the last 73 -odd years may not have granted this gun any particular status. Although holster wear or incidental damage through routine carry over that period would seem unlikely, it's not impossible; and perhaps it was stored in a holster for a time, that could explain the sideplate freckling.
The present gun was sold as a shooter, and I am well pleased with it. However, unless someone can come forward to shed light on this gun or, perhaps, elaborate it by reflection from among the other four P-08's known by me at this time (three from this Forum, one from G&S, pp.501-2) to have been accepted by this LWaA9 inspector (see my earlier post cited above), I think it's now time for me to acquire and investigate
another
weapon.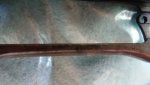 Cheers,
James