Discussion Starter
·
#1
·
Hello to all Unique experts,
Although I have no knowledge in the field of gun nor pistol, I still registered on this forum. Why?
In November 2013, my father died, and I found this broken pistol in a old wine box (
Bordeaux Saint Emilion 1985 !!!
) hidden in the basement of the wine cellar.
According to my research on several sites, including this excellent forum, I found out, this pistol is a 7.65 MAPF Unique model 17. However, I am missing the date of manufacture which I estimate pre-war (
thanks Dgiz and Yoebuff for your information work on serial numbers
).
The history of this pistol is quite simple but long… so, sorry to impose this family story on you guys.
My father was born in 1925, he was 19 years old in 1944.
He lived in a small town in the center west of France,
Saint Junien
, in the
Limousin
region (
called little Russia by the Germans because in active resistance since 1940
).
During the morning of May 10, 1944, my father, a friend and my grandfather took the tram for
Limoges
but after 12 km, young soldiers of the SS division "
Das Reich
" stopped the tram in the countryside before the village of
Oradour sur Glane
. They check everyone's ID papers. My father and his friend are put aside on the tram track. The reason: they are old enough to go to the STO (
Service du Travail Obligatoire - German Compulsory Labor Service
).
My grandfather didn't argue, he just mention "
if they are on this tram it's because they are going to Limoges requisitioned for loading military equipment at the train station, so please could you give me an official receipt explaining why you retaining then, and I could give back to the Limoges kommandantur explaining why they are not working for them !
"... off course it wasn't true.
The SS soldiers (
who were Alsacian and understand perfectly French
) was ordered to take only people from
Oradour sur Glane
, they finally decided to release them. The tram will leave, returning to the departure city,
Saint-Junien
. My father and his friend have just escaped the
Oradour sur Glane
massacre, 642 dead, women, children, men shot and burned
https://www.oradour.org/
My grandfather will be among the first to return to the village the next day and discover the mass graves in church, farm etc.
Realizing the horror, my father decides to go underground with several of his friends and join a group of resistance fighters in the
Limousin Charente
. It will be the
Ruffec group
named after this small town. During this period there were so many young people in France wanting to escape the STO that the resistant groups could no longer provide weapons and live. My father had no weapons in this Resistance "maquis".
http://resistancefrancaise.blogspot.com/2015/05/le-maquis-foch-charente.html
It was not until the fight of September 1 and 2 1944 for the liberation of
Ruffec
that he will recover this weapon from a dead soldier? a prisoner? a French militiaman? a policeman? I'll never knew!
End of the story.
Photos of 3 september 1944 liberation of
Villefagnan
village in Charente, France.
My father was certainly participating at this liberation.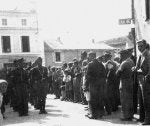 _____________________________________
When I found this pistol, it was not well maintained, and the firing pin was broken. In March 2020 I decide a complete renovation - 14 steps in photos:
-1
-2
-3
-4
-5
-6
-7
-8
-9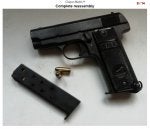 -10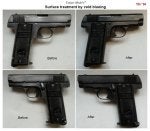 -11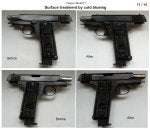 -12
-13
-14
I discover a plain and rustic pistol. Looking closely, I found the industrial process was not very good with a poor-quality steel. Whatever, now he is firing again but it's a quite old pistol not very accurate and reliable. As I say at the beginning of this message, I do not have much interest in gun just "
object-soul curiosity
". I won't use it anymore, just keep it well maintained in memory of my father.
However, I miss the year of manufacture? I therefore appeal to the experts help to locate an approximate date in relation to the SN:
Serial number: 246 640
Assembly number: 920
Slide Legend :
MANUFACTURE D'ARMES DES PYRENNEES HENDAYE
LE VERITABLE PISTOLET FRANCAIS 'UNIQUE'
MARQUE DEPOSEE CAL. 7.65MM S.F.M
Black bakelite grips marked Unique with Lion.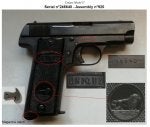 Thank you in advance for your efforts and hope you will understand my terrible English.
Henry